We started a new year of 2014 with a very nice women get-together evening. Our primary goal was to spend relaxing time in the good company, with snacks and beverages, discussing topics related to beauty care and visage.
Our guests had the opportunity to talk with professional cosmetologists, stylists and plastic surgeons. The possibility of expanding knowledge and discussing the doubts related to surgical or aesthetic treatments attracted women of all ages, who care about their health and well-being.
After a short welcome speech by the clinic manager- Monika Chomiuk, guests could learn the secrets of makeup and styling, revealed by the professional make-up artists – Maja Holcman and Natalia Janas. Ladies learned how to care for sensitive skin and prevent skin aging. Maja Holcman discussed the most common mistakes in the art of make-up, and demonstrated how to mask imperfections and build an appropriate symmetry of the face.
Natalia Janas used the opportunity to present her extraordinary skills performing make-up on the mature model, she has also selected a maching color scheme that will certainly inspire the model to refresh her wardrobe and introduce new elements to it, consistent with the make-up artist guidelines.
---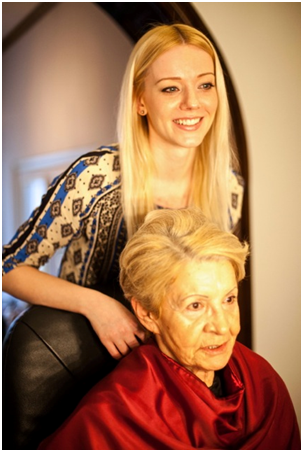 Anita Kobierska from Penelope Academy of Image responded to the most pressing questions in terms of self-presence, giving tips on selection the appropriate styling to the figure, choosing the business attire and performing day time make-up that is perfect to work. Beata Olesiak from massage and physiotherapy studio KOREMED discussed issues related to kinesitherapy, physiotherapy and massage, so that the patients can quickly return to form after plastic surgery. Adriana Sławińska presented to the audience the effects of SVR and Auriga body care cosmetics. We also presented the treatment possibilities of Galderma- aesthetic medicine cosmetic company. Mrs. Patricia Pestka has explained what to expect from the treatments with Restylane products, and also informed about new releases.
---
The presentation of Patrycja Pestka was complemented by the lecture of Dr. Przemysław Czyżyk, who specialize in aesthetic medicine. Dr Czyżyk spoke about different types of fillers and about wide variety of eCO2 laser treatments (newest fractional laser on the market), that are now available in Artplastica Clinic.
During the entire evening ladies could benefit from individual consultations conducted by Dr. Arkadiusz Kuna and Dr. Przemysław Czyżyk. Both doctors were helping to determine what treatments would be best to improve patient's appearance and well-being.
---
Thank you for this inspiring evening!