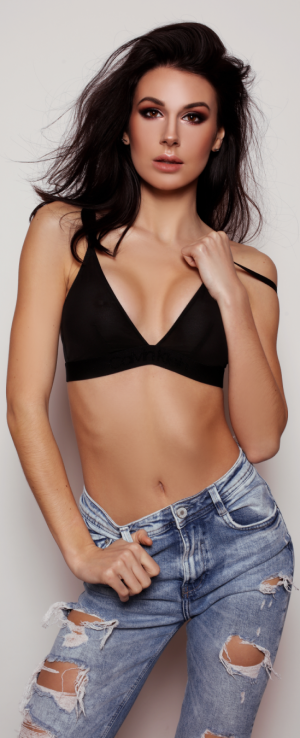 "It's been two years since breast augmentation surgery, but still every day seeing myself in the mirror, I smile to myself because I'm a different woman – beautiful and sexy. With my AA cup, at age 21, I felt like a little girl. I was ashamed to undress in front of a man, go to the beach or even put on a nice deep neck blouse. When nature failed, the doctor with a team of nurses and an anesthesiologist helped. Now my breasts are beautiful, they look 100% natural. Finally I feel like a woman. Many thanks to the doctor, nice and helpful nurses and receptionists, the operating team and all other employees of the clinic, who together make a wonderful team that fulfills dreams. I wish you further success at work, because what you do is real magic."
This is just one of the patient opinions published on our website: http://www.plasticsurgery-poland.co.uk/reviews-clinic-treatment-abroad-opinions
(We can't deny that they are the greatest reward of our work)
In the picture a satisfied patient of our clinic.
***
Breasts are one of the greatest attributes of a woman. Doesn't every woman dream of nice and firm breasts that will enhance her shapely figure? Unfortunately, not all ladies were gifted enough in this matter. Women, even those with really well shaped body, often find some minor imperfections that want to correct. However, there is also a wide range of women for whom the appearance of the breast is a serious problem. It is because when the breast is really small, the whole body does not look feminine. The problem of many women is not only the size of the breasts, but also their shape-usually this problem arise after pregnancy and breastfeeding.
Breast augmentation is an invasive procedure that is based on improving the shape and size of the breast. This treatment allows you to enjoy the outcome shortly after the procedure. Breast implantation is the most commonly performed procedure in the field of plastic surgery. It is carried out under general anesthesia and lasts about 90 minutes. Before this kind of treatment, a doctor's consultation is necessary to select the appropriate implants, as well as the method of their introduction. When it comes to the issue of implant placement, two techniques should be distinguished: insertion of the implant from a cut around the areola or in the breast fold. There is also a third method by an axillary access, but nowadays it is not recommended, as it carries a significant risk of complications. After making the incision around the areola, or in the breast fold, doctor reaches under the pectoralis major muscle, which needs to be partly raised. Next is the time to control the bleeding and implant insertion. After breast enlargement surgery women should wear a special bra that can be removed only during hygienic activities. It is to keep the breast in the right shape and position. The healing process is usually completed after approx. two months from the day of surgery. During this time, swelling comes down from the breasts, which give them a more natural look. In order to minimize bruising and soreness, in the initial postoperative period, a proper rehabilitation is also recommended, as well as learning appropriate movement behaviors.
MENTOR breast implants
The Mentor company was founded in 1969 in the United States. All Mentor implants have a lifetime warranty. What is important and worth emphasizing is that Mentor guarantee also covers capsular contractures. These implants are being used primarily for breast enlargement, but also for full breast reconstruction after mastectomy. They are made of dense silicone gel, which maintains coherence in the event of a rupture. This gel feels natural and soft, which is why it is preferred by many patients. Such an implant can also be used to fill flaccid breasts when dealing with breast atrophy. 100% filling reduces the risk of implant wrinkling, and also gives the "push-up" effect (especially noticeable in the new line of implants – Mentor Xtra).
SEBBIN breast implants
Sebbin is a French company operating on a global scale, which for almost 30 years has been developing, producing and selling high quality implants and expanders made of biocompatible silicone intended for plastic, aesthetic and reconstructive surgery.
All implants are handmade and signed with the CE mark approved by MDC in Germany. The production method involves the use of long-term implantable medical grade silicone registered by the FDA (Food & Drug Administration, USA) supplied by Nusil Technology and Applied Silicone Corporation.
B-LITE breast implants
Until this moment, plastic surgeons had the ability to use various high-quality implants that were characterized by high safety and variety of sizes and shapes. What is new on the market, is that the same size can vary significantly in weight! POLYTECH Health & Aesthetics B-Lite implants are a good offer for women who want to use larger-size implants. The center of the implants is filled not only with silicone, but also with many gas-filled micro-spaces, which reduce the weight of an implant by approx. 30 percent.
***
Contraindications for surgical breast augmentation include, in particular:
coagulation disorders

vascular blemishes

untreated diabetes

hypertension

pregnancy

herpes

skin infections
It should also be remembered that many chronic diseases exclude the possibility of breast surgery. Breast augmentation is also not performed on women who have undiagnosed breast changes, as well as all changes requiring prior surgical assistance. For patients who have not yet given birth or are planning to have more pregnancies, the implants are placed under the chest muscle. This technique usually does not cause problems with breastfeeding.
Breast implants are generally used for:
women after mastectomy

to shape the bust after weight lost

to correct uneven breasts

to enlarge the breast size
Renowned clinics use the highest quality implants, for which manufacturers give a lifetime warranty, so there is no need to exchange them for medical reasons. Usually, this is only done for aesthetic reasons, because after 10 or 15 years the bust rarely looks like shortly after surgery. The visual effect is adversely affected by several issues, in particular the natural process of aging, as well as gravity law and fluctuating body weight.
***
As described above, almost all implants currently used in plastic surgery are filled with silicone gel. Even if they have a different filling, the capsule they are surrounded with is also silicone.
The main component of silicone implants is silicon, which is found for exaple in sand. It is then compound with oxygen, carbon and hydrogen. The fact that silicone can exist in different forms like gel, oily or rubber depends on which element it forms the compound with. Due to the above, silicone has been widely used in medicine since 1946 for the production of (among others) implantable lenses, pacemakers, and since 1963 for the production of breast implants. It does not cause any serious reaction in the body, and it is well known for high impact resistance.
If you are planning breast surgery, it is also worth visiting our website: http://www.plasticsurgery-poland.co.uk/breast