Rhinoplasty, more commonly known as nose surgery, is one of the most frequently performed plastic surgeries in the world. In the last few decades, nasal plastic techniques have developed impressively. Highly trained specialists in the field of nasal surgery are more and more carefully transforming and changing the nasal cartilage during surgery to ensure adequate support of the nose skin. Despite these advances in philosophy and technology, most surgeons still use traditional surgical instruments. This has been changing recently. Increasingly, doctors are moving into the more advanced world of ultrasounds – that is ultrasonic rhinoplasty – PIEZO.
This innovative technology provides the precision and control required to change the appearance of the nose in a less aggressive way. It uses ultrasonic vibrations for precise cutting and modeling the bones. Now it is possible to change the appearance of the nasal bones while protecting the surrounding soft tissue. This revolutionary procedure causes less bleeding, less bruising, less swelling, faster recovery and better surgery results.
What is PIEZO Rhinoplasty?
PIEZO Rhinoplasty is a revolutionary surgical procedure. It uses ultrasound technology to supply small precise blades that enable the surgeon to truly "sculpt" in the nasal bones, changing their shape and thickness as needed, and even cutting them without causing any damage to other, soft nose tissues.
PIEZO technology has been known in Europe for several years (*). It was initially used mainly in dentistry, with excellent results in the treatment of upper and lower jaw bones. After few years a series of special microchips adjusted to the needs of rhinoplasty has been created. Such rapid development was 0possible due to the huge commitment of the world-famous French plastic surgeon Dr. Olivier Gerbault, who in cooperation with Dr. Milos Kovacevic- a German expert in nasal surgery, have developed a completely new surgical technique that revolutionized the world of rhinoplasty.
[Kovacevic and Gerbault are innovators and are still developing new methods and instruments that improve intraoperative support, leading to even more impressive results.]
This valuable device helps provide effective solutions for patients with a wide range of expectations for nasal reconstruction. The ultrasonic aspirator eliminates the need for using m other traumatic surgical tools and makes it easier to maintain the desired shape. The piezoelectric instrument specializes in correcting subtle irregularities, removing and transforming bones, creating more symmetrical appearance.
How is PIEZO rhinoplasty performed?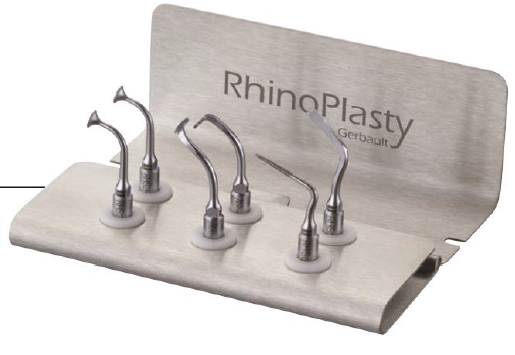 "Open" rhinoplasty is usually used when performing this procedure. This allows to maintain exceptional accuracy and precision in the target areas. During the procedure doctor accurately positions, smoothes and corrects the bone to achieve a more desirable shape.
Until recently, patients interested in rhinoplasty mostly feared "fracture of the nose bone" and uncertain results of surgery. Classic surgical kit that have been used for over a century includes basically the same surgical instruments with minor changes and improvements. The surgeon's basic rhinoplasty tools are a chisel and a hammer. The goal is to remove a hump from the nose, breaking the bones and move them in a way to make the nose narrower and straighter. In most cases, the results of this type of surgery are completely satisfactory, but sometimes the bones do not break exactly at the point where planed.
Thanks to Piezo, we work differently
PIEZO equipment is actually making the sculpture in the bones of the nose, shaping it as needed. We can finally make bones thinner without breaking them.
The whole procedure takes place with excellent field of view and full control. Thanks to this surgical method, we deal with less bleeding, less bruising, and less swelling. Patients recover faster and gain a better, more precise result of the surgery.
Why Piezo Rhinoplasty is so revolutionary for surgeons
Piezo provides excellent solutions to the serious problems that nasal plastic surgeons must face. It allows the surgeon to actually see the bone he wants to reshape and fully control its new form, closely monitoring bone weakness. Now the surgeon can slim the bones of the nose, especially in patients with a very "heavy and wide" nasal skeleton, this technique also allows to cope with moving bones after a recent injury or osteotomy. It feels comfortable and safe knowing that soft tissues of the operated area like skin or mucous membranes will not be hurt, because PIEZO only affects the bones.
_______________________________
(*) HISTORICAL BACKGROUND
The instruments used for ultrasonic bone cutting produce microvibrations that are the result of a piezoelectric effect. These vibrations were first described by French physicists Jean and Marie Curie in 1880. Catuna in 1953, Volkov and Shepeleva in 1974 described the cutting of hard tissue by ultransonic vibrations as a piezoelectric effect. Tomaso Vercellotti, an Italian oral surgeon, modified conventional ultrasound technology. In 1997, Mectron and Tomaso Vercellotti developed the concept of piezoelectric bone surgery. The main technological progress was the adaptation of ultrasonic movement to bone cutting. Mectron produced the first prototype device for piezoelectric bone surgery, with which the first extraction procedures were carried out. In 1999 Tomaso Vercellotti introduced the name PIEZOSURGERY® for this innovative operating method.