How we helped Kristina?
Hi, My name is Kristina I am from the UK. I've had the gastric by-pass four years ago. I've lost fifteen stones. I was 163 kilograms I am now 80 kilograms. As much as I've lost the weight and I feel healthier myself, it left me with horrible stomach- causing problems with clothes, confidence, in a relationships… It was affecting the whole life so this have been a life changing for me.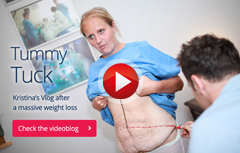 My motivation
The friend  of mine came here last year to have a tummy tuck and she looks absolutely fantastic. So we started to talk about it , and I got to e-mail Monika. She was lovely, spoke very good English, I understood what she was saying she could understand me.We e-mailed for quite a while and I decided to come over. The flight was good, taxi was good. They've pick you up from the airport, bring you straight here. And you get the taxi bring you straight to the clinic so that was fine. I got to meet Monika again spoke very good English so I felt really good. On the next day I had a blood test done but unfortunately it came back that I was anemic, because of the gastric by-pass, so the surgery had to be postponed. The staff were really helpful to  get the early flight back home. They re-arranged the taxi to the airport, which was no problem to them whatsoever. So I went back home, I've been on medications, and after two months had a blood test done again, and this time results  were fine, so I have been qualified for the treatment.
Tummy Tuck:  the operation day
The surgery took two hours and went well, without any complications. On the next day after the operation I already felt really good. Little bit tender, but that was to be expected. If I needed any painkillers they were there, but I didn't need them. I was  walking, could go to toilette fine. All the staff have been really helpful, I am feeling really positive about everything. I have not felt the discomfort at all.